Capcom has released their annual Development Report for 2016, complete with an array of information concerning their future plans. The report bears the title 'Second to None,' and contains detailed sales information, plans for future expansion, and some insight into the general development process at Capcom.
Perhaps most significantly, the report indicates a plan to solidify their state in the mobile market. Plans to bring titles like Monster Hunter and Sengoku Basara to mobile platforms are central to the new approach, though Capcom is no stranger to the mobile market. Their existing catalogue has seen waning popularity, and considering the general trends towards mobile gaming, bolstering sales there could prove a significant boon to the company. This is particularly evident in Japan, given the immense shift away from traditional gaming consoles. Console sales have slowed dramatically compared to the past few generations, with mobile platforms picking up a large share of the market.
Moving towards more mainline game development, Capcom is planning to make minor alterations to their process. The report states that there will be a focus on compatibility across multiple platforms, and popular franchises will see new titles released within a 2.5 year period. This is accompanied by the promise of post-launch support, which is already fairly well ingrained within the Capcom library. Further, HD remasters will ramp up in quantity in an effort to maintain interest in popular brands, in line with the recent Dead Rising and Resident Evil re-releases.
In terms of previously unrevealed upcoming titles, the only franchise to get a mention is Monster Hunter. Resident Evil 7 and Dead Rising 4 were briefly touched upon, but an as-yet-unknown Monster Hunter title is planned to bolster sales and popularity for the franchise.  Dragon's Dogma Online was also mentioned, with the potential of a Western release. The title is currently exclusive to Japan, though once its "foundation has been established," there is at least some interest in bringing the title overseas.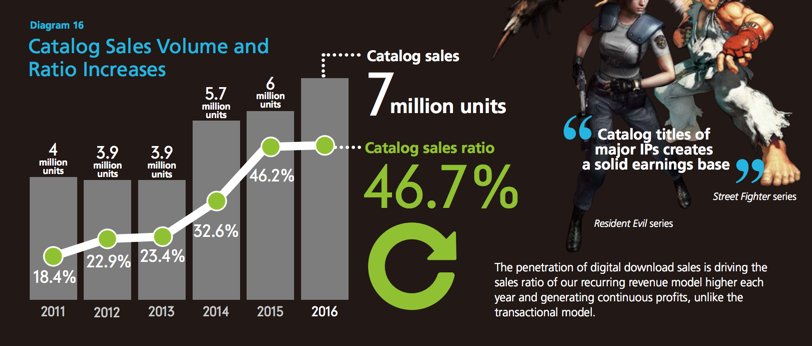 The report goes on to detail some development processes, and discuss the use of VR. In particular, Resident Evil 7 is the central focus for VR application, with its greater level of immersion and ability to "break down the controller wall."For more information, the full report is available to read on the official Capcom website. Daniel Ahmad has some handy summaries available on Twitter if you're short on time, or you'd rather read the condensed version.