During NVIDIA's GDC Event, the company unveiled its' new device, the Shield console.
The SHIELD is the first android based console capable of outputting in 4k, and at 60 frames per second no less. The console also runs on android, so users have access to the line up of content on the Play Store, including music, movies, games, books, news, etc. The console sits in a sort of cross-breed of the low end, inexpensive android TV micro consoles (OUYA, Mad Catz M.O.J.O., Game Stick, etc.) and the industry giants of Nintendo, Sony, and Microsoft. This can be seen in its price point, a competitive $200. The SHIELD comes packed with 3GB of ram, 16GB of storage, 2 USB 3.0 ports, and most notably, Nvidia's Tegra X1 processor sporting a 256 bit GPU.
"Performance is one of the key attributes of this little, sleek box."

- President and CEO of NVIDIA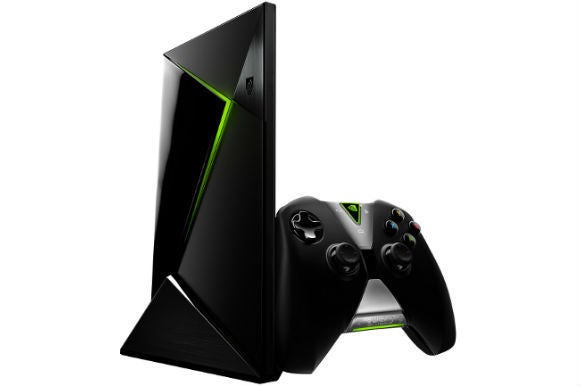 The SHIELD can run games locally, or through NVIDA's GRID streaming service. The GRID streams games to the console at 1080p 60 frames per second. The GRID also comes with two versions: free and premium, though premium is not priced yet. The GRID's library comes with 50 games at launch, and users can buy games ala carte.  The president and CEO of NVIDIA, Jen-Hsun Huang, said several titles will be available the same day they release on other platforms. Huang went on to say the device can stream at "half a blink of an eye."
"If you have a fairly good internet connection, I can get a response from a computer based in Oregon in 150 milliseconds. That's half the blink of an eye."

- NVIDIA's blog

The SHIELD from the back
The SHIELD comes with NVIDIA's SHIELD controller.
More information, including a detailed specs list, can be found here.
It seems game streaming is becoming more and more prevalent in the industry. The idea of using a company's super computers can be tempting, but until internet speeds become more consistent, the idea will likely have a hard time getting off the ground. The U.S. in particular has noticeably slow speeds compared to other countries, coming in at #27 on Ookla's Net Index, while the UK comes in at #30. Until net speeds can pick up, it might be a tough sell to ask these markets to invest in a console where its' functionality limits when the WiFi goes bad.
What's is your take on NVIDIA's new console? Are you interested in it, or is it just another day, another micro console? Leave your thoughts in the comments below!