Any good fantasy nerd will tell you that the tavern-come-inn is the true heart of any high fantasy setting, and the best place to meet comrades in arms, perhaps second only to jail. After all, the hobbits met Aragorn at an inn, Jim Hawkins met Billy Bones at the Benbow, and Commander Vimes lampshades this fact in Terry Pratchett's Jingo. They're a staple of the genre and have already sparked several tavern-centered games, but Klabater Games' Crossroads Inn on Kickstarter wants to bring something different to the genre.
With a goal of $30,000 for the project that's been in development since 2016, Klabater Games shares that the Kickstarter is also aimed at building a community and a base of beta-testers as well as recruiting additional funds. However, Crossroads Inn is a Kickfinish and whether or not the Kickstarter succeeds, the game is set to release for PC, Mac, and Xbox One later this year, with stretch goals for PlayStation 4 and Nintendo Switch ports.
Recently, I had the chance to sit down with Klabater Games and play a short demo of Crossroads Inn, as well as hear more about the project and its goals. While I'm a little rusty on playing management sim games—I haven't done much since I played SimSafari and that whole line back in high school—it was pretty easy to get into. If you want to play the storyline of the game, rather than just sandbox mode, it helps that your inn/tavern is already established. That is, instead of building it from the ground up, you have to renovate and expand it for a wedding that's going to be held there. Technically, it's also not even "your" inn, as you're working for your Uncle Martyn, but you start with baby steps.
For those wondering about the name of the game and the eponymous establishment, it's named the Crossroads Inn for a very obvious reason: it is indeed at the crossroads of the kingdoms of Yorevale, Utermarch, and Sambria. In addition to these tenuous relations, you also have to deal with different factions who want to come and do business with you, such as couriers, knight errant and seers, among other things. There is balancing required from the get-go, as even just starting out the game, the inn attracted different patrons based on how you expanded it and redesigned it.
Crossroads Inn will have three different modes: story campaign, sandbox mode, and time-limited scenarios, each offering different challenges and opportunities depending on your own playstyle. I'm personally most excited for the story campaign, as it seems vastly different to other tavern simulators in the genre, and I'm always a sucker for a good story.
So far, Crossroads Inn avoids the crime that some management games commit with too much of a focus on micromanaging and instead focused on creating its atmosphere, story, and general feel. While I didn't see many events, they seem to be key to determining the flow of the story campaign. However, this emphasis on story is also well balanced with the management aspect, as the game encourages you to explore and grow your tavern, and it felt like there would be a ceiling coming at some point if you neglected this.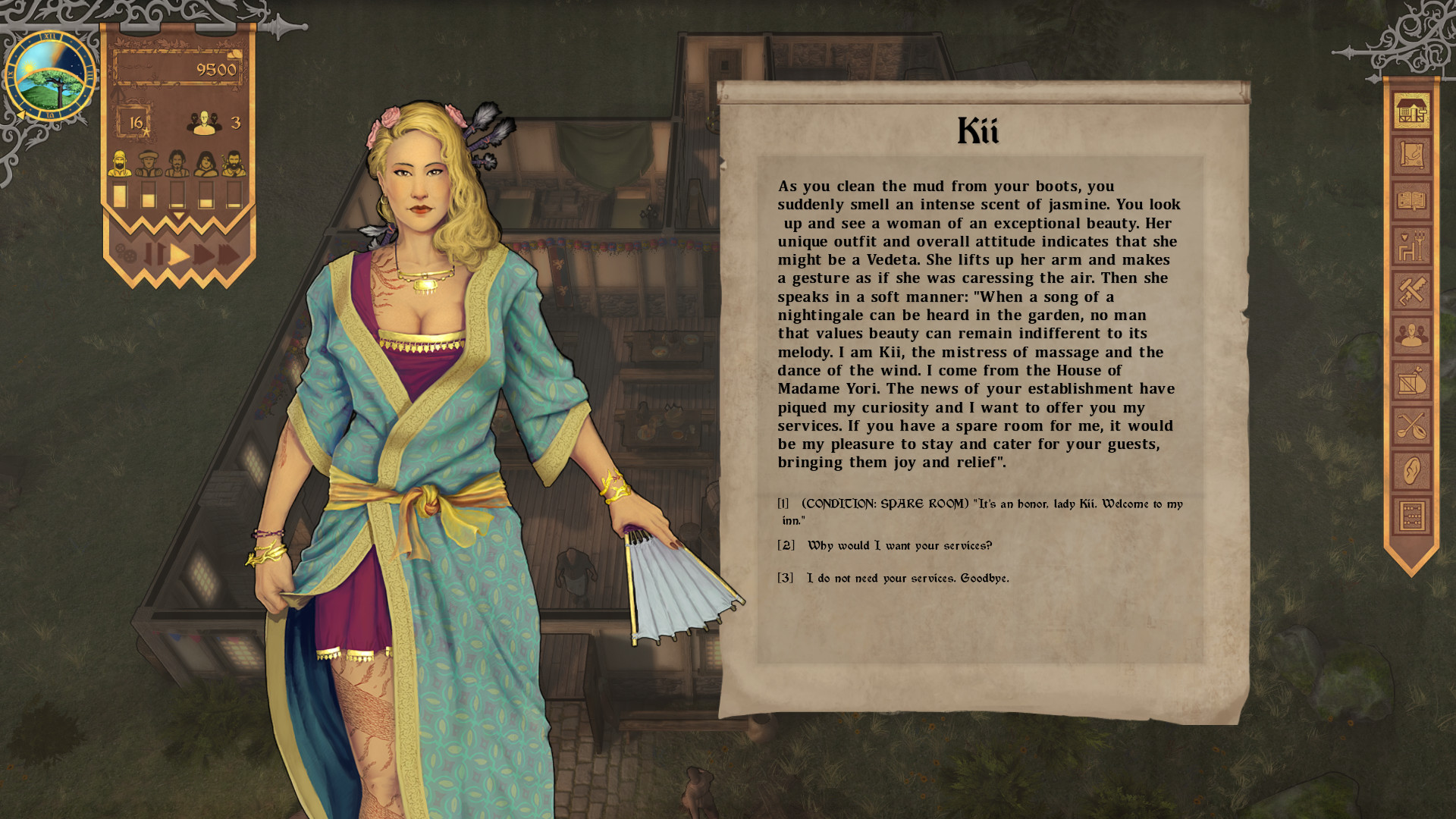 The game also has several stretch goals to reach. At $34,000 they'll introduce the scenario editor and Steam workshop, $38,000 will involve the hiring of famed actor Brian Blessed as narrator, $42,000 will add several tavern mini-games, $50,000 will add the Martyn's Legacy campaign which will add 2-3 hours of gameplay, and $80,000 will secure ports for the PlayStation 4 and Nintendo Switch.
There are several backer tiers with a variety of rewards available. Rewards range from the $5 inclusion in credits and monthly update to $20 getting you access to the game, a digital artbook, soundtrack, beta access that starts immediately after the conclusion of the Kickstarter campaign, and entry to the Discord channel. For those looking for more gaming, Klabater has a $25 tier that will give you a copy of either Regalia, or Apocalipsis, while all tiers at $35 or higher will get both titles. Starting at $65, the season pass will also be added which will include new story scenarios and mechanics such as Dogs and Cats, and officials. For the real high-rollers, tiers go all the way up to $995, which includes a Gamescom or PAX ticket, dinner with the team, your own NPC in game and more.
With Klabater having already published several games that means they have important experience in making sure a product ships on time. Risks are further lessened by the fact that the game is already in a highly playable state as we saw and backers will be able to just after the crowdfunding campaign. With a focus on improving the game and increasing the scope with funding already there and an experienced team, Crossroads Inn is a pretty safe bet and perhaps closer to an early access title in many ways.
Currently, the Kickstarter has seven days left and is over $26,600 pledged of their $30,000 goal. Crossroads Inn is expected to release during the fourth quarter of this year, with backers having access to early builds right after the campaign concludes.