As of moments ago, an update for GTA Online is now available, bringing it up to version 1.21 on PS4 and Xbox One, and 1.05 for story mode. Weighing in at 1.23 gigabytes, the update notes say that this update adds:
"New Vehicles, Weapons, Tattoos, Clothing, and MORE for both GTA Online and Story Mode".
At the moment I'm still downloading the update for GTA Online, so I cannot give you the specific details of the update as of yet, but I will update this article as soon as I find out what exactly this patch entails. If you play GTA Online, what are you waiting for? Go and download it now!
Update: The news is just flying in. Some of the bigger deals are being able to own three properties as of this update. This means room for 3 ten car garages! Which I'm very happy about. New vehicles are available, which are as follows:
[embed]https://www.youtube.com/watch?v=YXLuysEh3ag&feature=youtu.be[/embed]
Bravado Rat-Truck: $37,500 Vapid Slamvan: $49,500 Massacro racecar: $385,000 Jester racecar: $350,000
I imagine that the Jester and Massacro racecar are just racing variants of the two sports cars that already exist, at what seems to be a very reasonable price. They seem to have several unique racing liveries, which is nice!
[embed]http://youtu.be/Yp6ik1LnK7k[/embed]
New weapons are available, including proximity mines for $970 each, and a missile guided rocket launcher for $69,000, which is incredibly expensive for a single weapon, but man do homing missiles sound like a pain in the ass, and useful.
[embed]http://youtu.be/XcXdjt7Qdr8[/embed]
[embed]http://youtu.be/L690R3243Os[/embed]
New festive clothing for males and females. All the new clothing is free!
[embed]http://youtu.be/w3ySMhtgn_o[/embed]
[embed]http://youtu.be/O8y771s8_5g[/embed]
New tattoos for male and females have also been added.
[embed]http://youtu.be/CjK3X4PdbzQ[/embed]
The new masks shown above can be worn by both character genders.
All credit for the info and videos to SeaWallTx of the GTA forums. He is currently documenting the entire update in this thread. He does amazing work, so you should go check it out if you're interested and say thanks for his hard work.
Minor changes:
*When buying a car the following info is now listed:
Number of gears
Drivetrain (AWD,FWD,RWD,MR,RR)
Weight in lbs
Top speed in mph
*Trees and foliage now blow in the wind.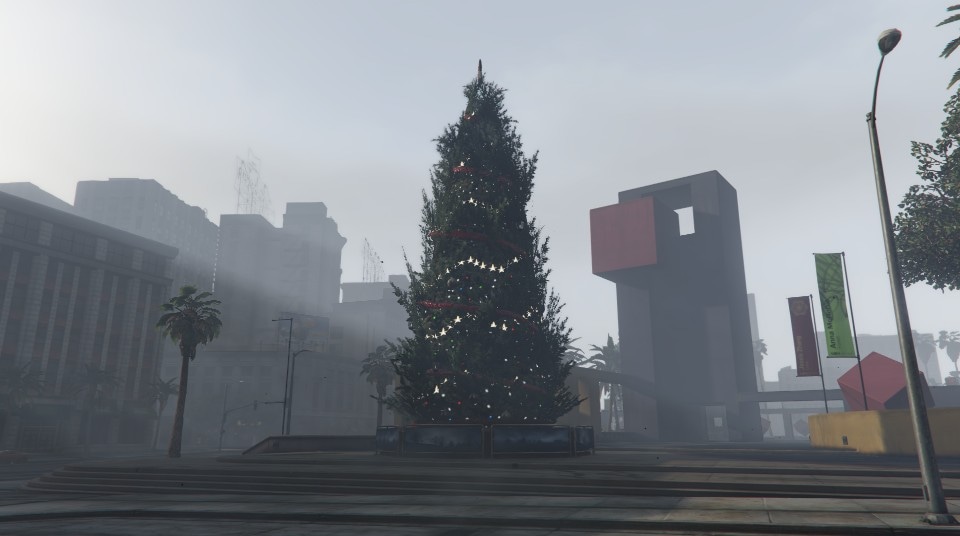 *Christmas tree added to Legion Square
* The purchasable 4584 Procopio Dr property no longer has a water fountain for some reason.
*New camera settings for first person mode have been added:
First Person Aim / Look Deadzone First Person Aim / Look Acceleration First Person Auto Level Camera on/off setting
All super useful, especially the dead zone setting.
*Official patch notes here: https://support.rockstargames.com/hc/en-us/articles/204380973--12-18-14-GTAV-Title-Update-1-19-PS3-…-
Xbox One also has the prompt to download the update. It has landed on PS3 and Xbox 360 weighing in at a paltry 94mb. At the moment, there's a very long wait on downloading due to server load, I can't imagine that actually getting online will be any easier, so you'll have to be patient.
GTA Online is a separate game inside GTA V, which is available on XBox One, PlayStation 4, PlayStation 3, and XBox 360 on Amazon which has it on sale now.