New information is now available on one of the possible middle-generation console from Microsoft.  Called the "Xbox One Slim", the console features improvements over the original Xbox One.  Credit for this image goes to NeoGAF.
Referred to as "Xbox One S" in the above image, the Xbox One Slim is touted as being "sleeker, slimmer, and sharper" than it's predecessor.  The two main draws of the console is that it contains a 2 TB hard drive, whereas the original Xbox One comes with either a 500 GB or 1 TB hard drive, while also being 40% smaller than the Xbox One.  The Xbox One Slim will also contain 4K Ultra HD video
Display for the Xbox One Slim can be done either horizontally, in the above image, or vertically with the included vertical stand as seen below (image courtesy of @ZhugeEX on Twitter).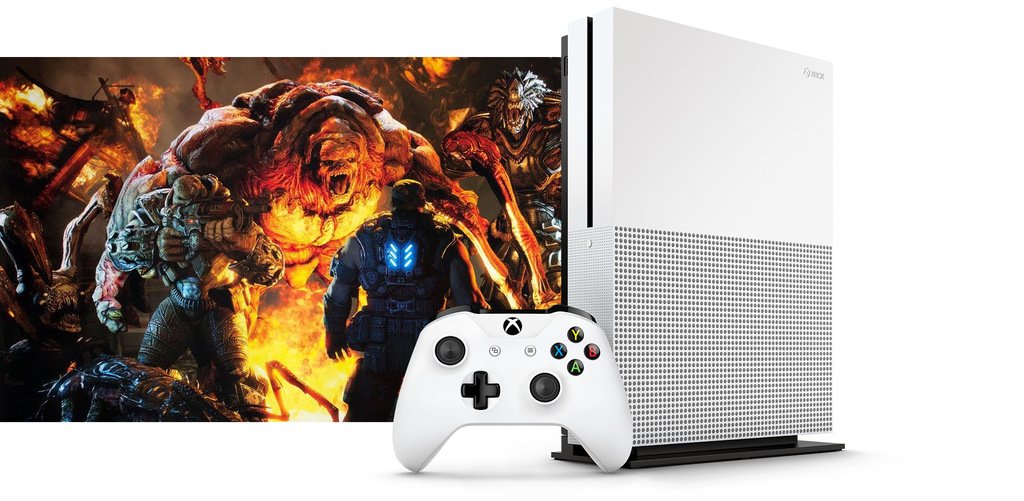 There is no further information on the Xbox One Slim at this time, including the console's launch date or launch price, although it is expected to be a big part of Microsoft's E3 presentation.
Stay tuned to TechRaptor for continuing coverage on new consoles and E3 2016.
---
Quick Take
I really, really like the aesthetics of this new console.  The  texturing on the one half of the Xbox One Slim really breaks up the white and makes it much more dynamic looking, and it looks good in either horizontal or vertical positioning.  That said, I'm going to have to wait to see what the launch price for it will be, because having a 2 TB hard drive means that it most likely isn't going to be cheap - I'd expect a launch price of anywhere from $350 to $400.
What are your thoughts on the Xbox One Slim?  Do you think it's a major improvement to the original Xbox, and will you be purchasing it once more information on it is known?  Let us know in the comment section below!