Thanks to Fallout 4, Dishonored 2, and Doom, it is no surprise that Bethesda's inaugural E3 conference was a huge success. You've got Fallout Shelter releasing during the conference, which obviously feeds into Fallout 4 and its huge marketing campaign, and then you've got a promising look at a reboot of a beloved franchise and a sequel to one of the best storytelling experiences of the last few years. Needless to say, people were excited after Bethesda's last E3 conference, and it is entirely possible that Bethesda may be able to replicate the feeling this year.
The Obvious - It would be more surprising if these didn't show up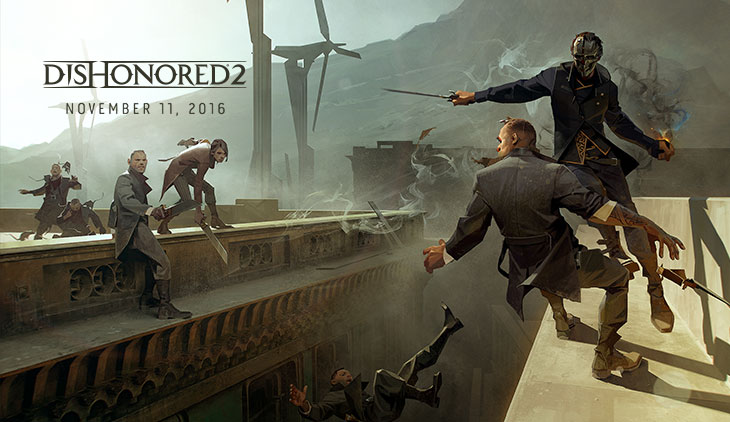 Dishonored 2
The original Dishonored was one of the most promising new IPs of the last generation, combining stealth, magic, and a story that revolves around an empire that is constantly teetering between collapsing to a plague and entering a new age of technological wonders. That being said, there was no shortage of criticisms regarding some aspects of the gameplay, and what better way to show that you listened to your audience and made improvements to a game than by unveiling a gameplay demo at a conference that everyone is already paying attention to?
More Fallout 4 DLC
Let's be honest, most of us tuned into Bethesda's E3 conference last year because they were showing off Fallout 4. Now that the game is out, the only thing that Bethesda can do to drum up even more attention is to show everyone what kind of new and exciting places their next batch of DLCs take us. After all, if you can travel from Boston to Maine in just one DLC pack, then there's no limit to where Bethesda can go in Fallout 4's next DLCs.
The Maybes - High risk, potentially high reward
Another Wolfenstein game
In some ways, Wolfenstein changed the public perception of Bethesda from "those guys who make good RPGs" to "those guys who make good games." For the first time in years, you have a purely single-player experience in a franchise that many know and love, filled with all sorts of mechanics and enemies that hearken back to an age that was much simpler, and it was good. Unfortunately, it was also limited by being developed in that weird transition phase where everything still had to come out for both current and last-gen consoles.
Judging by how well Doom's campaign was received though, there is certainly more than enough room in the market for another single-player game that is filled with absurdity and testosterone. Plus, everyone is apparently looking for World War II shooters again. However, any upcoming Wolfenstein game would likely come out during the middle of next year so that it can't possibly interfere with Dishonored 2 sales.
The Elder Scrolls: Legends
As fascinating as the Elder Scrolls franchise is, the fact that Bethesda's next (announced) Elders Scrolls project is a card game is somewhat odd. On the one hand, it is a relatively quick and easy way to keep fans happy. On the other hand, it's a card game. Compared to everything else that is going to be shown at E3, a card game is probably not going to get the same reception as something like a FPS simply because you can't really sell a card game as easily as you can sell something that can have a trailer that practically oozes action or storytelling. 
That being said, The Elder Scrolls: Legends can be a perfect way to lead into a teaser for another Elder Scrolls game, much like how Fallout Shelter acted as a part of Fallout 4's marketing.
The Don't Hold Your Breaths - Better get your good luck charm
Another Elder Scrolls game
Even though everyone expects another full-blown Elder Scrolls game, it is dubious whether or not it would be ready in time to show anything substantial at E3 2016. Consider this: we know that there will be more Fallout 4 DLC that Bethesda is working on, Elder Scrolls games are much too big to release this close to another big project that they more or less just finished, and the release of any traditional Elder Scrolls game within this year would clash with all the games that they have planned for this year. At best, the next Elder Scrolls game will come out during 2017's holiday season, which could help Bethesda steal next year's E3 spotlight much like how everyone was talking about Fallout 4 after E3 2015, although it doesn't stop them from teasing something at this E3 so that everyone has something to look forward to.